| | |
| --- | --- |
| 2018 Airshow Events | |
---

Saturday and Sunday, May 26 and 27, 2018
8:30 AM
Buses begin boarding at 8:30 AM at the AV14 [Trowbridge] Parking Lot (Ashland Rd at E Campus Dr) in Columbia, and at the Jefferson City Airport.
9:00 AM
Gates Open at Airshow

Flight of the Kansas City Dawn Patrol "Flying Circus" WWI Airplanes and WWII Piper L-4.
U.S. Army Special Operations Parachute Team "Black Daggers" carrying the U.S. Flag during the National Anthem.
U.S. Air Force Academy "Wings of Blue" Parachute Team.
University of Missouri Joint Service Drill Team.

Salute to the Nation Solemn Ceremony (Hosted by MFA Incorporated)

| | | | |
| --- | --- | --- | --- |
| | | | National Anthems of the United States and Canada |
| | | | 21-Gun Salute by the Whiteman AFB Honor Guard. |
| | | | Honoring those Veterans from WWI to the present, who gave their lives in service to their Country. |
| | | | Introduction of Honored Guests and Reunion Groups |
| | | | Concert by the Boone County Fire Protection District Bagpipers |

T-6 "Reno Racer" Aerial Flight Demonstration.
Douglas AD-1 Skyraider Aerial Flight Demonstration.
D.H.100 "Vampire" Jet Areobatic Demonstration flying this very rare jet.
U.S. Air Force T-33 Shooting Star "Ace Maker" Aerobatic Flight Demonstration.
T-28B Trojan "Trojan Phlyers" Aerobatic Demonstration.
U.S.A.F.A Parachute Demonstration Team "Wings of Blue".
U.S. Army Special Operations Parachute Team "Black Daggers".
U.S. Air Force A-10 TAC Demo Aerobatic Demonstration followed by Heritage Flight with the P-40 "Warhawk".

4:00 PM
Flying Events Concluded

---

Monday, May 28, 2018
8:00 AM
Wreath Laying at Veterans Memorials. 25 wreaths will be placed at the Memorials to the Veterans of the Civil War, WWI, WWII, Korea, Vietnam , Desert Storm & the War on Terror at the Boone County Courthouse.
9:55 AM
30th Annual Salute To Veterans Parade on Memorial Day with aircraft fly-overs. The route is down Broadway, turning North (right) on 10th Street; left on Rogers and right on 8th Street to disband in the huge parking lot beside Columbia College Athletic Field. Following the Parade the US Army Parachute Team, The Black Daggers, will jump into the Columbia College Athletic Field prior to the start of the Salute To The Nation Ceremony.
10:45 AM
Military Ceremony. Immediately following the Salute to Veterans Parade a Military Ceremony will be held at the Columbia College Athletic Field, Columbia, Missouri. The Columbia Community Band plays, the Honored Guests on the platform are introduced, along with veterans of WWII and military recruiters. A speech on the meaning of Memorial Day will be given by the ranking military officer followed by "Amazing Grace" by the Boone County Fire Protection District Bagpipers, a 21-Gun Salute, and then Echo Taps will bring to an end the 6-day Salute to Veterans Celebration.

Colonel Robert Leeker, AirBoss. USAF, Ret. Wing Commander, 131st Bomb Wing, Whiteman AFB, MOANG, Ret.. Awarded the Bronze Star for ground combat as commander of Kirkuk Regional Air Base. Flew a variety of military aircraft including the F-15 Eagle in Iraq. Final flight upon retirement was as a pilot in the B-2's.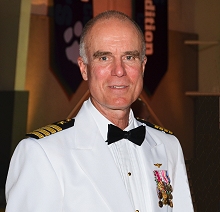 Captain Bill Bond, Assistant AirBoss. USN, Ret. Commander, Fighter Wing, U.S. Atlantic Fleet, F-14 Tomcats. A graduate of Hickman High School, the University of Missouri and a Master's Degree from the Naval War College in Newport, RI.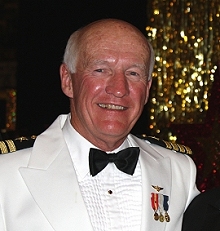 Captain Ted Jacobs, Assistant AirBoss. USNR, Ret. 26+ years in the USN and USNR flying the P-3 Orion; then a pilot with SouthWest Airlines, Ret.

Battalion Chief Boone County Fire Protection District, Chuck Leake, USNR, is taking the microphone again this year as the Voice of the Airshow.